The Oklahoma Water Resources Board (OWRB) and U.S. Geological Survey (USGS) conducted a vulnerability assessment of 12 major Oklahoma aquifers using the EPA's DRASTIC index method. Twelve major aquifers, for which adequate data were available from previous studies, were selected for the study: six bedrock aquifers (Central Oklahoma, Vamoosa-Ada, Rush Springs, Antlers, Elk City, and High Plains) and six alluvium and terrace aquifers (Enid Isolated Terrace, Tillman Terrace, Cimarron River, and three segments of the North Canadian River--the western reach from the Panhandle to Canton Lake, central reach from Canton Lake to Lake Overholser, and eastern reach from Oklahoma City to Eufaula Lake).
DRASTIC was developed by the EPA to be a standardized system forevaluating groundwater vulnerability to pollution. The method considersseven hydrogeologic factors: Depth to Water,Net Recharge, AquiferMedia, Soil Media, Topography, Impactof the Vadose Zone Media, and Hydraulic Conductivityof the Aquifer.
The USGS created, documented, and published digital geospatial datasets that describe the aquifer characteristics and created the gridlayers used to calculate the DRASTIC index. The OWRB used the gridlayers created by the USGS to compute the final DRASTIC indices andto produce the aquifer vulnerability maps. The maps were based ona cell size of 960 x 960 meters, or about 228 acres.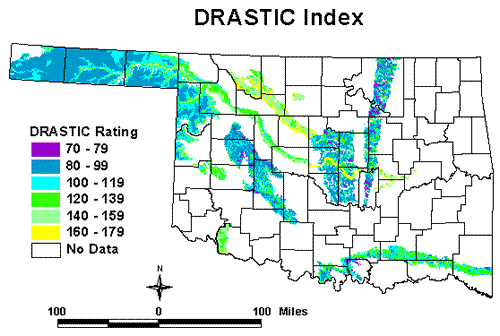 Figure 1. Drastic Aquifer Vulernability Map of the 12 Major Aquifers
The resulting aquifer vulnerability maps (Figure 1.) indicate that of the 12 major aquifers included in the study, the bedrock aquifers are the least vulnerable to contamination from pollutants introduced at the ground surface, and the alluvium and terrace aquifers are the most vulnerable. The High Plains aquifer is only moderately vulnerable, largely due to its great depth to water.